Fly Fishing in Northern New Mexico and Southern Colorado 
motel airbnb lodging accommodations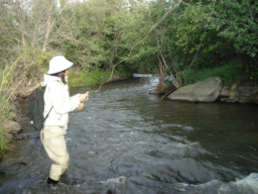 Due to the recent Supreme Court Ruling in March 2022 on river access through private property, we felt that our stretch of river was now a liability instead of an asset. We decided to sell that stretch but are still in business for lodging and guiding.
We are located within one hour's drive of the best trout fishing streams in Northern New Mexico and Southern Colorado: the Red River, Costilla, Cimarron, Conejos, Vallejos, El Poso , San Francisco and Culebra.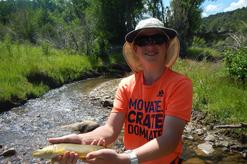 Fishing is by appointment only, catch and release and limited to one group at a time.  Your privacy is assured. Fishing is included at no cost to lodgers.We offer discounted guiding service to our guests and we have access to other private waters for a small rod fee. 
Costilla Creek Fishing Lodge and Guide Service operates under permit on the Carson National Forest.
We can also arrange for hunting guide service.
This institution is an equal opportunity provider.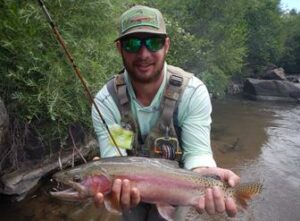 Brandon from PA, a talented bamboo rod maker, caught this beautiful male Rio Grande cutthroat over 20″ on our stretch of the Costilla on July 15, 2018.